NSF International announced it has certified more than 340 automotive aftermarket collision repair parts for the Australian market.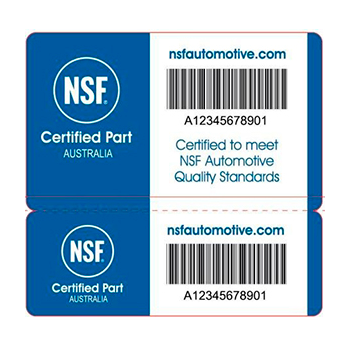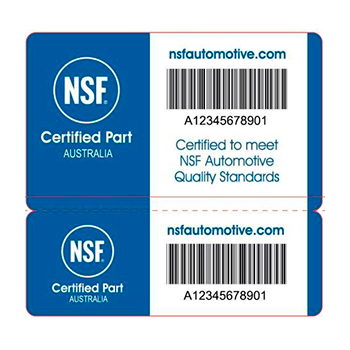 NSF International's certification program is designed to ensure that the parts are equivalent in form, fit and function to the original equipment (OE) service parts in Australia and that they meet NSF International's other rigorous certification requirements including compliance with Australian Design Rules. It also addresses:
Parts material evaluations
Performance and function requirements
Vehicle test fits performed in Australia on Australian vehicles
Dimensional and strength requirements
Thickness and adhesion requirements for coatings
Corrosion and flammability requirements (as appropriate)
In-plant quality control requirements, which includes passing an in-plant audit, and
Packaging requirements.
"Suncorp, a leading Australian insurer, has been involved with NSF International for a number of years and has been impressed with the NSF International certified parts program," said Rob Bartlett, Executive Manager, National Partners and Industry, Motor Claims at Suncorp Insurance. "We took a group of crash repairers to visit NSF International's testing facilities in Ann Arbor, Michigan and everyone was highly impressed. Feedback from repairers has been overwhelmingly positive about the quality of the NSF International certified parts, which have improved the general standard of the automotive aftermarket in Australia. We are extremely supportive of a quality product that has been independently certified and that delivers direct benefit to consumers and our policyholders."
The average age of a vehicle in Australia is approximately 10.1 years1. It is expected that along with aging vehicles on Australian roads, there will be a demand for high quality certified aftermarket parts. Consumers can find a high quality alternative part, guaranteed to meet all form, fit and function requirements by looking for the NSF "Certified Part Australia" label.
"NSF International certified parts allow repair shops and consumers throughout Australia to identify high-quality aftermarket auto parts," said Bob Frayer, NSF International's Global Managing Director of Automotive Certification Programs. "Consumers benefit from a competitive marketplace with high- quality options for collision repair parts and repair shops save time when replacing seroquel online 300 mg parts that have been fit-tested for seamless installations."
Introduces Australian and New Zealand Automotive Recycler Certification Program
NSF International also announced it is expanding its automotive recycler certification program to the Australian and New Zealand markets. NSF International's independent, third-party automotive recycler certification ensures that recyclers meet grading, labeling and traceability requirements as well as Australian and New Zealand recycler regulations for safety, environmental regulatory compliance and recordkeeping.
Automotive recyclers and industry experts from Australia and New Zealand worked with NSF International to develop the requirements for the certification program using an open, consensus process in accordance with American National Standards Institute (ANSI) procedures. The program will help insurers, regulators and consumers identify certified automotive recyclers who meet requirements in areas like safe working practices, environmental compliance and auditing. Certification ensures that processes are in place and implemented for vehicle acquisition, dismantling equipment, parts storage and sales as well as customer service.
"Independent, third-party certification has the potential to add significant value to the professional automotive recyclers who do things right, and provides for an alternative parts supply chain," said Bartlett. "We strongly support the use of recycled parts both for environmental and overall consumer benefits. We believe that a strong recycling industry is vital for the future of motor repair. NSF International certification of a facility will add confidence that the parts and the supplier are of the highest standard, and those facilities are sourcing parts through legitimate and traceable channels. Repairers can be confident the parts are legally sourced, accurately graded and service levels are industry leading."
"With NSF International recycler certification, qualifying recyclers now have a way to differentiate themselves in terms of providing high-quality recycled parts with regular audits of their processes as well as environmental compliance and safe work practices," said Frayer. "Professional automotive recyclers have invested in their facilities and people to achieve NSF International automotive recycler certification."